---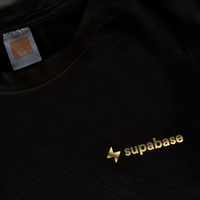 We know what you are thinking. $1 million dollars for a Supabase t-shirt...? Does it come with an NFT?!
The answer is no. It's a regular T-shirt, but they are EXTREMELY limited and we think they look darn good.
So what to do if you don't have a spare million dollars to spend on a slick limited-edition Supabase Tee?
The answer, get involved in the Supabase hackathon. We will be giving away these limited edition Gold-Supabase Logo T-shirts to hackathon winners.
The hackathon starts on 30.07.21 and the submission deadline is 11:59pm 6th August 2021.